OUR TEAM
Human Rights Connected draws upon the drive, expertise and creative energy of our team members and collaborators to fulfill our mission. We strive to foster a learning environment where our team and partners develop important skills while working toward our collective vision. Our team is 100% volunteer-based, international and remote.
Learn how you can join our team!
Nicola Barrach-Yousefi
Founder and Executive Director

Based in Paris, France
Nicola has over a decade of experience working with and supporting movements and human rights defenders around the world by designing and implementing field projects and programs including training, facilitation, curriculum design, and translations.
Nicola is the Lead Researcher with PeaceTech Lab's Hate Speech program, and previously served as Senior Advisor of Civic Initiatives at the International Center on Nonviolent Conflict (ICNC). Founded Human Rights Connected (HRC) in 2011.
She is passionate about civil resistance theory and practice, human rights education and how new and old technology can be leveraged to advance human rights movements.
Matt Parsons
Research & Operations Associate

Based in Baltimore, Maryland, USA
Matt directs HRC's long-term and ad hoc research initiatives, and manages our resource library of practical civil resistance tools. He first joined the team as a Research & Operations Intern in the summer of 2013. Matt also works at the Civic Works Center for Sustainable Careers, which helps advance racial equity in Baltimore through jobs training. He is especially passionate about anti-racism and LGBTQ+ causes. Matt spends his free time hanging with his cat Billie, learning Korean and organizing with Baltimore Jail Support. Matt is a Sagittarius.
Sabrina Sanchez
Education & Communications Associate

Based in Tegucigalpa, Honduras
Sabrina is an experienced educator and program coordinator. She develops human rights education initiatives such as HRC's Know Your Rights Action Guides. Since joining in 2015 as a research and operations intern, she's launched the HRCBlog which she manages. Sabrina currently spearheads a rights-based legal empowerment program in Honduras to increase access to justice via grassroots organizing tools. Her prior experience at an anti-human and sex trafficking organization and youth-based cycling program has refined her passion for minority rights and youth activism. When she's not taking a nap, Sabrina devotes her time to discovering new music on Bandcamp and exploring new terrain by foot or bike.
Ilias Bartolini
Chief Technical Advisor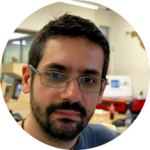 Based in Berlin, Germany
Ilias is an experienced software engineer and technologist passionate about free & open source software, digital rights and mentoring.
Many years ago accidentally found themself in the middle of an Occupy movement square with a camera and started using it to capture pictures and amplify the voices of the movement.
Nowadays he is supporting and advising the implementation of HRC's tech initiatives and is not losing hope about rebuilding this website.
When not busy Ilias plays with interactive art and keeps searching how to put digital social innovation at the service of others.
Nnenna Mazi
Regional Associate – Africa

Based in Port Harcourt, Rivers State, Nigeria
Nnenna is based in Nigeria, West Africa. She joined HRC as a Research and Operations intern in 2018. Prior to that, interned with the National Human Rights Commission and did her youth service at the Legal Aid Council, both in Nigeria. She has equal interest in human rights and public international law; and is passionate about causes geared towards helping the vulnerable. Nnenna's current role involves building the organization's network in Africa, and facilitating the development of a support platform for defenders. She is a foodie and also enjoys traveling and gardening.
Christa Koeyvoets
Blog Coordinator

Based in Aarhus, Denmark
Christa is a Dutch journalist. She has a BSc in Communication Science from the University of Amsterdam and is currently based in Aarhus, Denmark as a Masters' scholar at the Erasmus Mundus Journalism, Media and Globalisation program. In the past, she has worked at the human interest department of a Dutch magazine as an editor intern. Next to this, she's worked for a television production company, creating content for several of their websites. Her proudest achievements here include developing a podcast on health and taking the lead on the creation of a brand new website on the same topic. Christa is passionate about LGBTQ+ and women's rights. In her free time, she enjoys writing in-depth articles about these topics.
Alex Mathews
Research & Content Coordinator

Based in Washington, D.C., USA
Alex is a master's student studying Ethics, Peace, and Human Rights at American University's School of International Service. Prior to starting her master's degree, she worked in marketing and communications at an international law firm and a technology startup. Alex also interned at the United Nations, researching and writing on developments regarding human rights and refugees. She is passionate about women's rights and raising awareness of human rights violations. She earned her BA in Political Science and French & Francophone Studies from Davidson College. In her spare time, Alex enjoys walking, photography, and writing about her travels.
Pouya Yousefi
Technical Advisor

Based in Paris, France
Pouya provides technical direction, support, and guidance for the HRC team. Currently serving the Analytics Center of Excellence in IQVIA as their Lead Data Science Developer, Pouya's 20+ year tech career has spanned working as a software developer, team lead, and principal consultant to more recently as a machine learning engineer. Pouya is passionate about natural language processing algorithms and repurposing them for behavioral pattern recognition.