Action Guides
The Know Your Rights Action Guides initiative launched in 2017. Supporting our mission to increase access to, understanding, and knowledge of human rights, they provide another opportunity to engage with human rights and civil resistance.  Thematic topics are informed by periodic library assessments conducted by our research team which allow us to highlight those lower represented topics and regions. Our goals for the action guides are to:
Equip our audience with practical steps on how to get involved and stay active with a current struggle or movement; and

Support our audience in being aware of and understanding their rights, and how to defend them through knowledge sharing.
Our first action guides are complimented by a blog post which you find on the HRCBlog. Each action guide is collaboratively created in-house with specific HRC team members.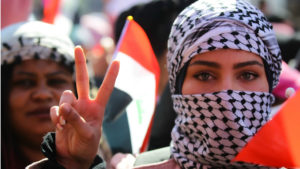 Civil society's participation in the anti-trafficking movement has the power to help eradicate this form of modern-day slavery. With greater access to information, evidence-based data, and violence preventation training, these heinous crimes and human rights violations can be better mitigated.This Know Your Rights Action Guide is a comprehensive manual that can be used as a toolkit for…