Reading time:
7
minutes
Since Dilma Rousseff was ousted from office in 2016, one thing is sure: Brazilian society has lost critical hope on politics and is now profoundly polarized. With two extremes of the political spectrum unwilling to dialogue and failing to tackle its structural problems, Brazilian democracy and human rights are now at stake.
Origins of a dictatorship
To understand the roots of the Brazilian democracy crisis, it is necessary to rewind to the dictatorship period. Like other countries in Latin America, Brazil was subjected to a military coup which took power in 1964 in order to avert the "communist menace" – with support from the United States. Torture, assassinations, and homicides were common practices within the regime that only ended in 1985.
Brazilian dictatorship ended with the Amnesty Act, which was passed and granted to both militaries and the opposition – and sold as a "grand national agreement". While it prevented the prosecution of individuals who fought the regime, it also protected state officials complicit in crimes against humanity.
Impunity in Brazil has a direct connection to military police abuses and human rights violations since the dictatorship ended, but Brazilians struggle to understand this, according to Peruvian sociologist Eduardo González (in Portuguese). The disappearance of Amarildo de Silva, an inhabitant of the Rocinha slum, and the killing of Marielle Franco, a human rights activist and councilwoman for the city of Rio de Janeiro, are two of the majorly publicized cases in a sea of statistics.
In 1988, the lasting national feeling of liberation was gone.
Neopopulism rise and fall
In 2001, the famous union leader Lula was elected president with a neopopulist rhetoric. During his campaign, he wrote a "Letter to the Brazilian People" indicating a toned-down pacification discourse. His "love letter", as Grigera describes, brought commitments to both the financial market and Brazilians, and so "signaled continuity with the neoliberal order (…), while still mentioning the need to reduce poverty and inequality".
As part of the "Pink Tide Movement" of leftist governments in Latin America in the 2000s, Lula's less intense version of neopopulism praised human rights and social justice, which were translated into his social policies.
Lula's most successful social program, "Bolsa Família", cash transferring social program to low-income families which secured children's school attendance and vaccination, was applauded by the United Nations and the international community. It became the legacy of both Lula and his Workers' Party (Partido dos Trabalhadores – PT).
Following anti-corruption protests and the wide bribery investigations, particularly "Operação Lava Jato" (Car Wash Operation), two major groups were established in the country.
One affirmed Lula and PT as being politically persecuted for their beliefs. The other associated PT with the corruption scandals that rose in 2003.
Despite Rousseff's lack of popularity, she was reelected with a slight margin to the runner-up in 2014, but the Petrobras scandals, essentially the pretext of "pedaladas fiscais", culminated in her destitution which was deemed by many as an institutional and constitutional coup.
The active involvement of Dilma's then VP, Michel Temer or because of the formal legitimacy of the "drunken" impeachment process in Congress.
It is important to understand the impeachment's impact: an ousting of a democratically elected president that led to the deepening of the political polarization within Brazilian society.
The rise of extremism
Brazil's divisive politics and society's demand for quick fixes in the economy, public security, and corruption gave space for extreme right politicians with destuctive populist rhetoric.
The clearest example is, Jair Bolsonaro, an ex-military congressman in favor of revoking the Disarmament Act and who is known to violently speak out against gender equality, LGBTQ+ and indigenous rights. In 2015, Bolsonaro publicly praised General Ustra, a former dictator that commanded crimes against humanity in the military regime.
Bolsonaro's political platform is filled with "quick fixes" to complex structural issues. He has seduced a majority of the middle class with his zero tolerance on criminals discourse. These band-aid approaches fail to address root problems – poor education and lack of State presence in low-income communities.
The ascension of a politician with such violent discourse is partially due to the current state Brazil is in now.
Brazilians generally perceive politicians as a corrupt class that rob billions in money intended to fund free public healthcare, education and security – all lacklustre. The public upheaval against a practice that appears too common to all politicians, regardless of their ideological inclination, created a perfect environment for an extreme-right populist politician to become a "legend" – how his supporters call him.
Bolsonaro's populist rhetoric differs greatly from Lula's. Although both are "charismatic" in their own ways, Bolsonaro uses an authoritarian speech that goes against human rights, while Lula points in the opposite direction.
It is important to say that a populist discourse is usually dangerous in a democracy, as it sees the world in black and white, "the good and the corrupt", when in reality the spectrum is complex.
But when such discourse is detached from fundamental rights, it triggers and legitimizes public actions of hatred and violence, much like what happened in the U.S with Trump.
The rise of global populism is in part due to Brazilians never fully experiencing transitional justice.
Brazil does not have a core principle that refutes human rights violations in reference to the military regime. This is why a portion of Brazilian society believes it is acceptable to restrict human rights in complete disregard of the Brazilian Constitution.
Current political spectrum
This discussion about the pro-PT and pro-Bolsonaro extremes revolves around hope.
Superficially, both sides want the political extermination of the other, but the current separation lies much deeper than ideological differences: the lack of critical hope on politics and establishments.
The pro-Bolsonaro movement has often used concepts such as "traditional Brazilian family" to assert an elitist and pseudo-Christian speech. This rhetoric promotes the carrying of guns, refutes feminism and minorities rights, and restricts fundamental rights for those who are not "good citizens", while the opposing group advocates for basic human rights.
Mostly composed by the middle class, the pro-Bolsonaro group believes meritocracy leads to success, but it neglects to consider the blatant inequality in the country.
This concept of meritocracy is an unveiled result of the Brazilian middle-class disagreement with the social and economic mobility of the low- income families linked to Lula's administration. Mistreatment was rampant in places inaccessible to the lower class before. According to Noam Chomsky, this disagreement goes beyond politics, and is "simple class hatred".
The surge of corruption scandals instigated by almost all political parties embedded this discredit in politicians. This discredit is natural, but there are also elements of false hope in both groups that, unless surpassed, will maintain Brazil in its democracy crisis.
The false hope on both sides is centered on the notion that only a "saviour" can fix Brazil's problems. The creation of these "saviours", on both sides, was not only a product of the people but also the results of the political landscape, media partiality and judicial activism.
"Hokey hope", as scholar Jeff Duncan-Andrade describes, "projects some kind of multicultural, middle-class opportunity structure that is inaccessible to the overwhelming majority of working-class" people of color.
Chomsky affirmed that Lula's party has not learnt from its past mistakes. So, it is necessary for supporters to critically examine those administration's actions. Not doing so means they do not have hope, but blind optimism.
It is necessary for both extremes to abandon their false hopes and blind optimism, and move towards critical hope.
In this sense, Paulo Freire, a famous Brazilian philosopher, wrote in his Pedagogy of Hope that "without a minimum of hope, we cannot so much as start the struggle. But without the struggle, hope, as an ontological need, dissipates, loses its bearings, and turns into hopelessness. And hopelessness can become tragic despair".
It is only with this critical hope, as "an act of ethical and political responsibility that has the potential to recover a lost sense of connectedness, relationality, and solidarity with others", that Brazil will be able to reconnect all sides of the spectrum and create a space for dialogue that is based on empathy.
The 2018 Presidential Elections
In 2018, after a trial court found Lula guilty of illicit enrichment, an appellate court confirmed the decision, which rendered the ex-president non-electable under the "Lei de Ficha Limpa" (Clean Slate Law). Lula, who intended to run for office again and was first in earlier polls, started a judicial via crucis in higher courts to secure the right to run.
Although Lula presented his candidacy to the electoral court with the support of the U.N. Human Rights Committee, which provisionally requested Brazil to ensure his right to be a candidate, his plead was denied. He had to be replaced by his VP candidate, Fernando Haddad.
Haddad is a fairly new face to politics. He has experience in the executive as the secretary at the Education Ministry, but, much like Rousseff, he does not have Lula's charisma.
As the polarization grew stronger, with both extremes of the spectrum feeding each other with popularity, Haddad and Bolsonaro became the two clear favorites.
Bolsonaro's violent discourse is favored by many. The Datafolha poll shows Bolsonaro leads with 58%. Haddad comes in second with 42%. The scenarios for a second turn of votes are still undefined. Bolsonaro and Haddad are technically tied.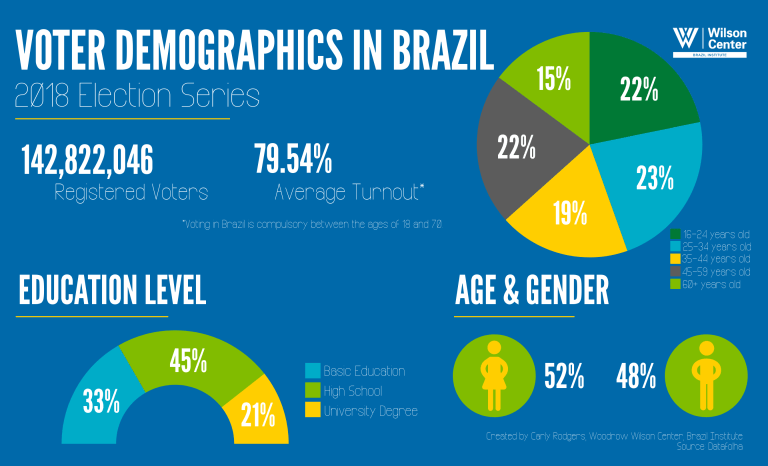 Campaigns started in August, and have been marked by violent actions and nationwide protests. Last September 6th, Bolsonaro was campaigning amidst a crowd and was stabbed in the stomach by a man who later affirmed to the police that it was "an act of God". Violence is not the answer, but the attack suggests that Bolsonaro's destructive rhetoric reached his supporters and his opposition.
On September 29th, Bolsonaro's overall opposition – including individuals who are not Pro-PT – took the streets in major cities of Brazil to shout "Ele Não", or "Not Him", claiming that the candidate is unfit to be President. The following day, Bolsonaro's supporters also went to the street of Brazil, although in smaller crowds.
A big black sky is hovering over Brazil. Neither administration will have congress or a major public support. It will be a hard hit on democracy if this polarization is strengthened and the unwillingness to dialogue prevails. If Bolsonaro wins, Brazil will see an anti-human rights rhetoric in office.
Either way, nobody wins.
---
Go deeper with these suggested readings: an Open Letter on the Brazilian Elections by the Landless Workers Movement (MST), Strategic Goals in Nonviolent Strategy to Liberate Brazil and The Most Important Presidential Race in Brazilian History.
---
This guest post was written by Igor Farias, Brazilian lawyer and Master student in International Law at the University of Lisbon, and a former Research and Operations Intern at Human Rights Connected.
Email us at [email protected], browse our organizations and initiatives in our online library leave us a comment on Facebook, tweet us @rightsconnected and interact with us on Instagram @rightsconnected.

This blog post was edited by Education and Communications Intern, Kyra Tessman, and Education and Communications Associate, Sabrina Sanchez.


Featured image borrowed from The Guardian's article, "Second vote looms after far-right candidate fails to secure majority – as it happened"
Feedback helps us improve: