Reading time:
3
minutes
In December of 2016, the Colombian Congress officially ratified a renegotiated peace agreement with the Revolutionary Armed Forces of Colombia (FARC), bringing the armed conflict between the government and the nation's largest guerrilla group to an end.
The 52-year-long war caused the displacement of nearly 7 million individuals and lead to the deaths or disappearances of 220,000 people. Politicians sang promises of ceasefire and assured the country that there would be greater prosperity for all.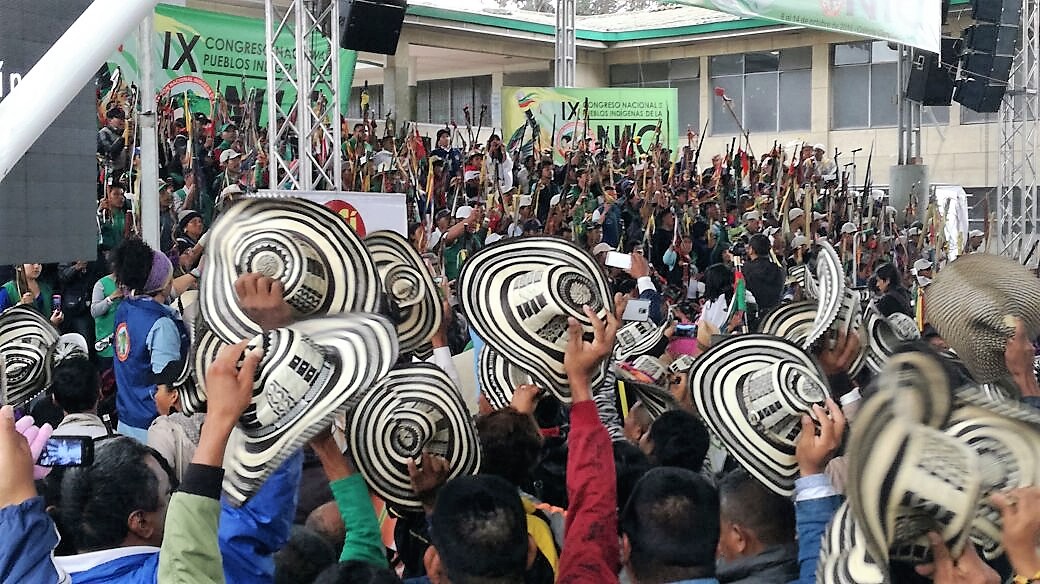 The historic breakthrough, though, has not brought Colombian indigenous groups the increased welfare and prosperity they had hoped for after the agreement. Despite the positive rhetoric coming out of Bogotá, native individuals continue to be left out and left behind. The over 1.5 million indigenous people that call Colombia home are plagued by issues such as land grabbing, forced displacement, and violence. Over half a century, they have been caught in the crossfire between state and non-state actors, including guerrilla groups, paramilitaries, and government forces. Attacks against Colombian social leaders and human rights activists, especially among the indigenous community, resulted in 71 homicides in 2016 alone. There remains a significant gap between the state of human rights conditions for the indigenous community and Colombian and international law.
Colombia ratified the ILO Convention 169 and supports the UN Declaration on the Rights of Indigenous Peoples. Furthermore, national protections under the 1991 Colombian Constitution give indigenous groups some of the strongest protections in Latin America. How do we reconcile the fierce reality of assaults on indigenous communities and the international standard that the Colombian government has promised to abide by?
Response
As a response, grassroots action in Colombia is growing and human rights defenders play an increasingly important role in enacting social change. Many social leaders and activists see civic action as one of the most promising routes for progress. Groups such as The National Indigenous Organization of Colombia (Organización Nacional Indígena de Colombia / ONIC) and the Indigenous Authorities of Colombia (Autoridades Indígenas de Colombia / AICO) have been successful in mediating between the state and indigenous groups during crises. The ONIC has held strikes and highway blockades across the country on various occasions and has succeeded in pressuring the government to participate in formal dialogues with the leaders from the indigenous community.
In a video released by the ONIC, representatives of indigenous groups from across the country discuss their firm conviction that peaceful organizing is the most effective means to gain political representation.
"We think it is a legitimate right for the indigenous communities in civil society to mobilize and demand our rights," a leader from Valle del Cauca explained.
On May 30, 2016, the ONIC organized a march where environmental and social leaders from 100 towns in Colombia and 27 departments demanded the Colombian government to incorporate their territorial rights, self-determination, and environmental justice into its decision-making. Passionate, peaceful protestors took to the streets, wielding traditional musical instruments and staffs as symbols of their collective power and united voice.
Nonviolent movements, such as this, are crucial to advancing a peace that benefits all and empowers marginalized groups to exercise decision-making power. However, external groups also help to strengthen their claims. Organizations including Witness for Peace and Colombia Solidarity Campaign have been allies to the indigenous community. The U'wa Nation's struggle against exploitative oil and gas extraction was backed by a handful of solidarity groups and led to a formal meeting between the Colombia government and U'wa leaders, representing the strength of collaborative strategic partnerships.
The struggle to ensure that the promises of the peace accord reach Colombia's most vulnerable populations continues, but, poco a poco, progress is being made.
Email us at [email protected], browse our organizations and initiatives in our online library leave us a comment on Facebook, tweet us @rightsconnected and interact with us on Instagram @rightsconnected.
Guest post by Laura Schroeder, who is completing her graduate practicum through the Middlebury Institute of International Studies at InterAction and the International Labor Rights Forum. Laura is also the former Community Engagement Intern at Human Rights Connected. Edited by Education and Communications Associate, Sabrina Sanchez.
Feedback helps us improve: