Reading time:
2
minutes
Women's leadership and participation during times of conflict is a crucial component of peacebuilding. When women are involved in peace processes, there is a 20 percent increase in the probability of an agreement lasting for 2 or more years, and a 35 percent increase in the probability of it lasting 15 years or longer.
There are multiple barriers to women's participation in peacebuilding efforts:
Only about 1 percent

 of funding to fragile states goes to women's groups, and leaders who address conflict, security, peacebuilding, and disaster response are overwhelmingly male.

Between 1992 and 2011, only 9 percent

 of negotiators at peace tables and a meager 4 percent of peace agreement signatories were women.

In nations affected by conflict, women occupy 18.7 percent

of parliament seats, four percentage points below the global average.
As women harness and exercise their collective organizing power, we are noticing a dramatic shift towards greater gender equity in peace processes has been occurring.
In Rwanda, for instance, women have been instrumental in rebuilding and strengthening the nation after the 1994 genocide. They served as judges in Gaccaca courts to facilitate the reconciliation process, and an unprecedented share of women took on leadership positions at the grassroots and national scales at National Women Councils and women's associations.
Legislation is a key driver of gender parity. Government mechanisms in Rwanda, including the establishment of a ministry for Family and Women's affairs have ensured that women are actively involved in the reconstruction process. Rwandan women currently are a majority in the legislature with over 63 percent of seats in the lower house.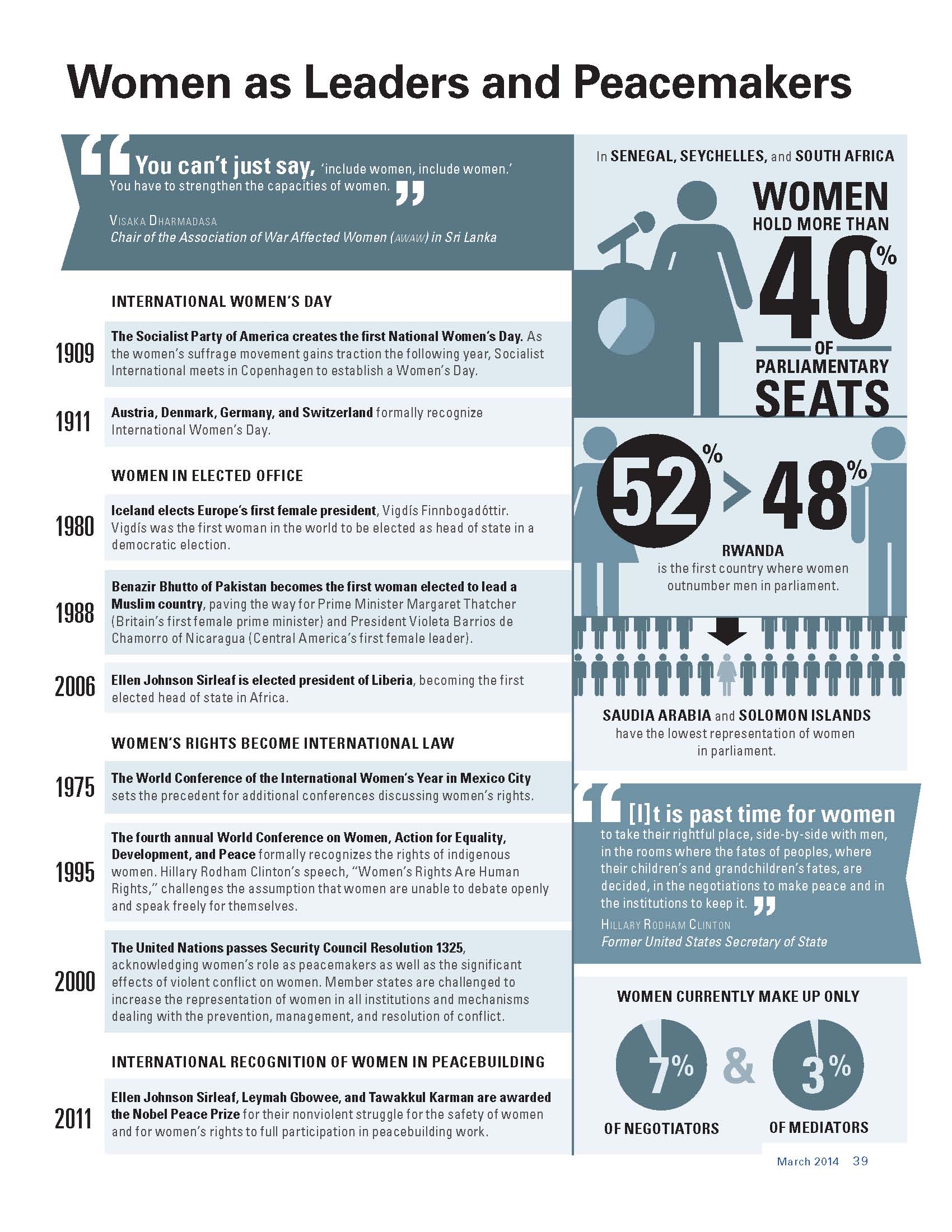 One civil society organization umbrella organization, Pro-Femme Twese Hamwe, recipient of the UNESCO Award for Peace and Tolerance continue to devote their time urging the Rwandan government to prioritize the women's involvement in the national development agenda.
Women and their allies are building global momentum in the fight for peace, justice, and equity. There is much to learn and gain inspiration from when we see women putting their bodies on the line to protect other women. 
---
Email us at [email protected], browse our organizations and initiatives in our online library leave us a comment on Facebook, tweet us @rightsconnected and interact with us on Instagram @rightsconnected.
Guest post by Laura Schroeder, who is completing her graduate practicum through the Middlebury Institute of International Studies at InterAction and the International Labor Rights Forum. Laura is also the former Community Engagement Intern at Human Rights Connected. Edited by Education and Communications Associate, Sabrina Sanchez.