Reading time:
< 1
minute
CIVICUS Monitor is the first ever comprehensive civil society monitoring tool. It rates 195 countries on a 5 point scale from open to closed. CIVICUS also records in real time news, developments related to civil freedoms. Curated by regional research partners, CIVICUS is a tool for civil society to talk about the scale of this global crisis.
With its interactive world map you to access live updates from civil society around the world and track threats to civil society. CIVICUS as an effective activist tool can offer more than an appealing learning experience, but an in depth investigation to the ways in which our right to participate is being realised or challenged.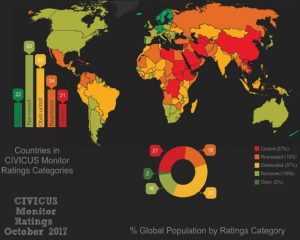 "Only 3% of people on the planet live in a country in which CIVICUS believes is genuinely open. Amplify your advocacy," reports Dhananjayan Sivaguru Sriskandarajah, Secretary General of CIVICUS.
Access CIVICUS via our library and visit our website for additional resource material related to what human rights defenders can do to strengthen civil society. We also look forward to hearing about your actions! Email us or tell us on Twitter @rightsconnected.
This post was written and edited by Education and Communications Associate, Sabrina Sanchez.

Featured image borrowed from CIVICUS.
Feedback helps us improve: