Reading time:
3
minutes
During these grave and unprecedented times of the COVID-19 pandemic, new digital tools are revealing harrowing data on privacy violations and government emergency powers. This #FeaturedResourceFriday we share how an online tracking platform monitors restrictions to civic freedoms and how this tool can improve government accountability and protect civil society.
Measuring the need and effects of intervention
According to the CIVICUS Monitor, a digital tool that tracks and analyzes the state of civic space, several key trends unveil concerning findings about the endangerment of civic freedoms. Internet censorship, for example, is a common tactic used by state media to "silence activists, journalists and government critics and suppress critical information." This restricts accessing vital information and threatens our freedom of expression and assembly.
These trends confirm the increasingly dire need to monitor how governments respond to COVID-19 impact human rights. With cross-cutting research and innovative databases, we must use every tool available to protect civil liberties.
Keeping civic spaces healthy
As a collaboration project between International Center for Not-for-Profit Law (ICNL) and European Center for Not-for-Profit Law (ECNL), the COVID-19 Civic Freedom Tracker "monitors government responses to the pandemic that affect civic freedoms and human rights, focusing on emergency laws."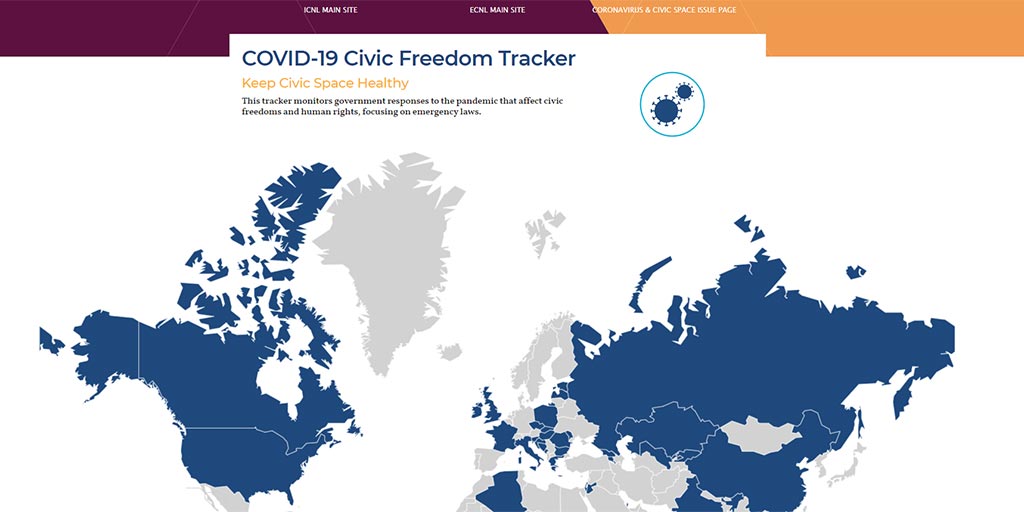 The Tracker, as an informative database tool, includes a collection of different "types" of legal measures implemented by governments. As outlined in their methodology, these "'type(s)" of measure distinguish those that are primarily executive, legislative, or legally binding".
Moreover, the Tracker's useful "Filter by" function allows you to customize your search by country, issue, type, or date. Next to this, you can also sieve by country and explore regional trends and analysis available for free. You will likely encounter multiple issues per search. To narrow down your results, refine your selections.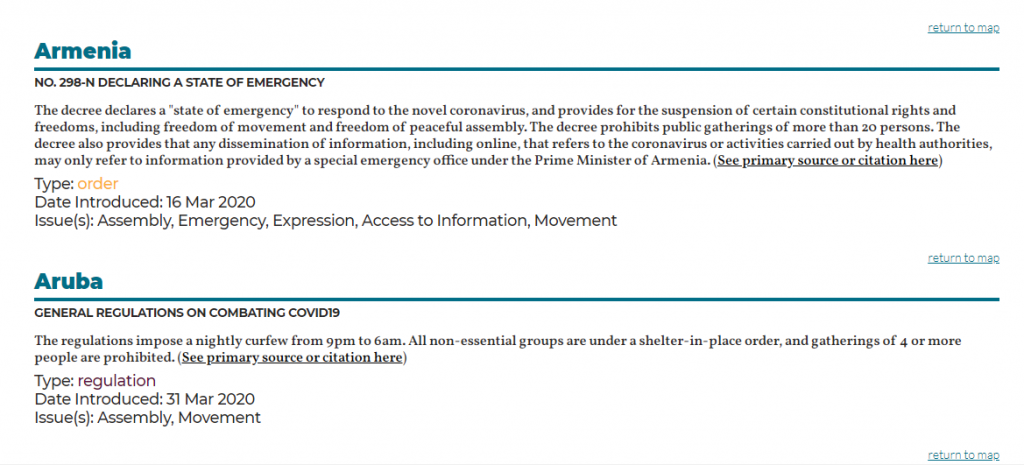 Although the Tracker offers insightful information, it doesn't fully represent how COVID-19 has impacted civil society and civic freedoms. However, it is a concerted and systematic effort to provide insightful findings and uncover some distinctive human rights trends.
The double edged sword of tracking systems
Tracking systems have proliferated during COVID-19. From home quarantining and immunity passport apps, to drones that monitor social distancing guidelines, some of these well-intentioned measures are disproportionately violating people's freedoms. Some of this software intrudes on privacy rights by dispersing location data and personal information without user consent.
There are safer and effective approaches to help slow the spread of COVID-19 that doesn't involve manipulating people or their freedoms.
The Tracker reinforces the need for better coordinated international supervisory mechanisms to safeguard human rights. Despite the precariousness of COVID-19 one thing is certain, the inclusion of civil society strengthens democracy's immune system.
---
What are your thoughts or concerns? We also encourage you to interact with us. Leave us a comment below, email us at [email protected], browse our organizations and initiatives in our online library, leave us a comment on Facebook, tweet us @rightsconnected and interact with us on Instagram @rightsconnected.
This blog post was written by Education and Communications Associate, Sabrina Sanchez and edited by Editorial and Content Intern, Christa Koeyvoets.
Featured image borrowed from Markus Winkler via Unsplash.
Feedback helps us improve: