Reading time:
2
minutes
The Inter-Agency Network for Education in Emergencies (INEE) specializes in developing toolkits like their Pocket Guide to Supporting Learners with Disabilities.
This Pocket Guide complements the INEE Minimum Standards guide which articulates the right to education for all children and young people, including those affected by crisis.
This guide is intended to be a short and accessible introduction to some of the ways in which teachers working in crisis or emergency settings can include and support children and young people with disabilities.
Created in 2010 by INEE's Inclusive Education Task Team the guide has received mentions by several activist organizations and international initiatives such as Global Disability Rights Now, UNESCO, and the Zero Project. Editors David Mitchell and Valerie Karr also cited the guide in Crisis, Conflict and Disability: Ensuring Equality, a book which provides global perspectives on how people with disabilities are affected during conflict situations.
The guide outlines inclusive principles and shares practical implementation tools and examples of how to effectively include children and young people with disabilities in all areas of education.
The strategies are diverse and address topics from transportation and self-awareness to daily operations and programming. The recommendations in the guide also advise on how to deliver inclusive instruction and plan effective learning assessments.
This guide is intended for use especially in circumstances of crisis, but its principles can certainly be helpful in any educational environment. Below is advice on how to best use the guide.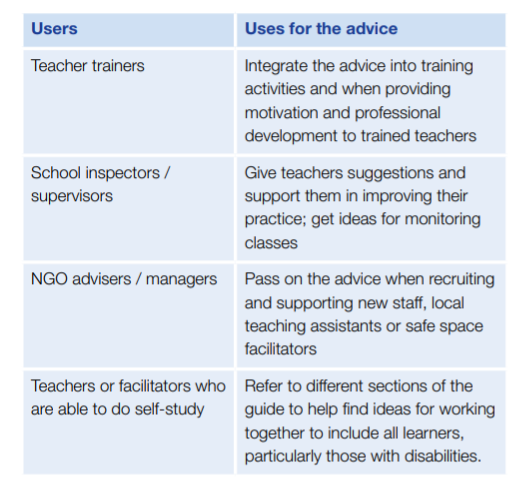 Each chapter in the guide highlights common arguments, possible barriers to inclusion and comprehensive solutions.
Learn more about other activist toolkits in our library. Do you have a resource to share? Please comment below or submit a resource via our website!
---
Email us at [email protected], browse our organizations and initiatives in our online library leave us a comment on Facebook, tweet us @rightsconnected and interact with us on Instagram @rightsconnected.
This blog post was written by the HRC team: former Education and Communications Intern, Kyra Tessman, and edited by Education and Communications Associate, Sabrina Sanchez.
Featured image borrowed from INEE.
Feedback helps us improve:
  (rating:

5

-

1

votes)