Reading time:
2
minutes
Human Rights Defenders' (HRDs) work might sometimes expose them to specific contexts of violence and repression. HRDs' safety and protection remain a priority both personally and for the successful execution of their humanitarian work.
HRDs might experience threat at first hand as part of their work. In such situations, it is crucial that they are aware of some practical steps for reducing their vulnerability. The Workbook on Security is designed for the purpose of educating HRDs about this. It is part of Security in a Box, a compilation of digital security tools and tactics, developed jointly by the Front Line Defenders and the Tactical Technology Collective.
The Workbook is an indispensable tool for individuals and organizations. It enables HRDs to design a security plan tailored to the specific conditions of their work. The booklet systematically walks the reader through some practical steps. It guides them through assessing their situation and developing relevant strategies for mitigating threats.
Being informed about the right questions to ask is an important prerequisite for avoiding potential harm.
With the booklet, HRDs learn to analyze key threats and reflect on their own well-being. The manual encourages defenders to be more attentive to stress symptoms and manage them effectively. This is essential for understanding how to safely navigate the unique contexts of their work.
What does it look like?
The Workbook highlights concrete examples of simple tactics to guide HRDs. Readers can acquaint themselves with provisional security plans for various hypothetical scenarios. For example, in the context of a police search, confiscations, or kidnap.
The manual also provides HRDs with a range of potential risk factors and conditions. This allows HRDs to learn to think creatively and competently about strategic action in their work.
In the snapshot below, you can see 12 useful Appendices with examples, checklists, and guidelines for strategic action: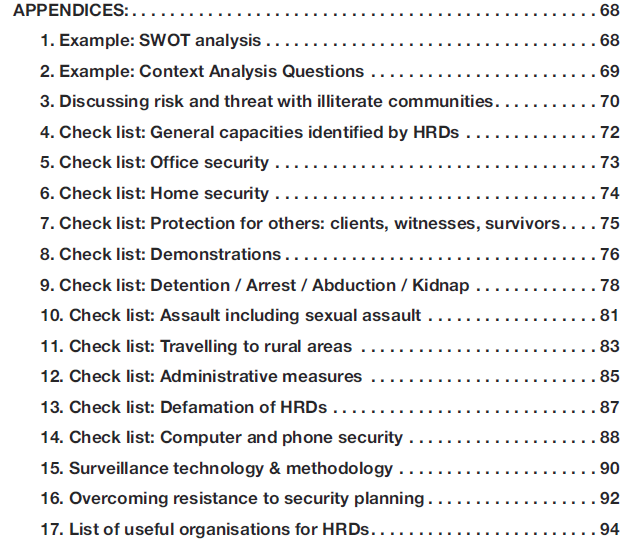 If we use the information contained in this manual to draw up simple, yet vital, personal and organisational safety plans, it will enable us to work harder and further for human rights, and indeed for humankind.
Dr. Yuri Giovanni Melini
The Security Workbook is available in English, Arabic, Chinese, Dari, French, Portuguese, Russian, Spanish and Urdu.
---
Email us at [email protected], browse our organizations and initiatives in our online library leave us a comment on Facebook, tweet us @rightsconnected and interact with us on Instagram @rightsconnected.
This blog post was written by the HRC team: Education and Communications Intern, Denitsa Dimitrova, and edited by Education and Communications Associate, Sabrina Sanchez.
Featured image borrowed from Front Line Defenders.
Feedback helps us improve:
  (rating:

0

-

0

votes)