Reading time:
2
minutes
The Environmental Justice Atlas (EJAtlas) is an online, interactive platform centered on a visual display of thousands of socio-environmental conflicts. From deforestation and palm oil plantations in the Amazonia of Peru to the endangered corals in Okinawa, Japan, the EJAtlas coalition of strategists, organizers and scholars collaborate to expose mobilization efforts through case studies as a way to bring to light the growing number of environmental injustices and call on state accountability.
"Environmental Justice is both a social movement and an activist/mobilized science with three fundamental dimensions: distribution, recognition and participation."
With 2457 reported cases around the world, this virtual space can be utilized as an educational resource for those working on environmental justice (EJ) issues to get information, find other groups working on related issues, and increase the visibility of environmental conflicts.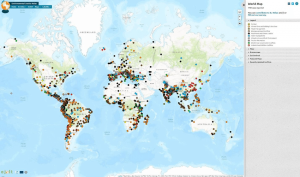 Each conflict is assigned a symbol marker to identify the primary resource or violation. Users can choose to show conflicts by commodity, country, company and more. Each marker, when clicked, reveals background information about the conflict and its impact, outcome and mobilization. The platform also highlights a "Recently Updated Conflicts" section to ensure their audience is up-to-date on active/open cases.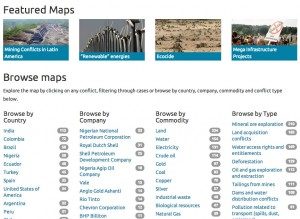 Environmental resistance
Leah Temper, coordinator and co-editor of EJAtlas wrote in a recent Special Feature , "protests are not disruptions to smooth governance that need to be managed and resolved, but they express grievances as well as aspirations and demands and in this way may serve as potent forces that can lead to the transformation towards sustainability of our economies, societies and ecologies."
Grassroots organizers and environmental justice organizations (EJOs) around the globe have demanded more equitable sustainability practices and resisted capitalist globalization processes that ignore socio-environmental hazards.
"EJOs are not only oppositional movements, but also propositional and pro-active, as they oppose something for protecting a different way of producing, exchanging, living."
Like HRC, the EJAtlas "promotes discussion, debate and exchange on the matter with a wider public." Visit their about page and website to learn more about their collaborative process, environmental justice and how to navigate their online database. You can also find the EJAtlas resource under the Activist Toolkits section on our library.
Plus, stay tuned for our next blog post which will focus on indigenous peoples' and their role in the global environmental justice movement!