Reading time:
5
minutes
How to support racial justice before, during and after a protest, and from afar!
There are countless ways to support racial justice and stand in solidarity with black communities during a pandemic. Thousands of protestors have joined the frontlines, while others have supported remotely. Regardless of which approach you take, there are strategic ways to protest safely and effectively both on- and off-the-ground.
Read the below tips to inform yourself on the best ways you can support the movement for black lives and express solidarity.
Protesting on the Frontlines
If you decide to hit the streets, there are precautionary measures to consider in order to ensure you and others are safe. Given that we're in a pandemic, it's crucial to carefully calculate your risks and reassess your health so we can minimize the spread. Read on to learn How to Protest Safely During a Pandemic.
Despite the added preparation you take before protesting, risks and threats are inevitable. This resource provides steps before, during, and after protesting on the ground. If you're wondering what happens next, read, You attended a protest during a pandemic. Now what?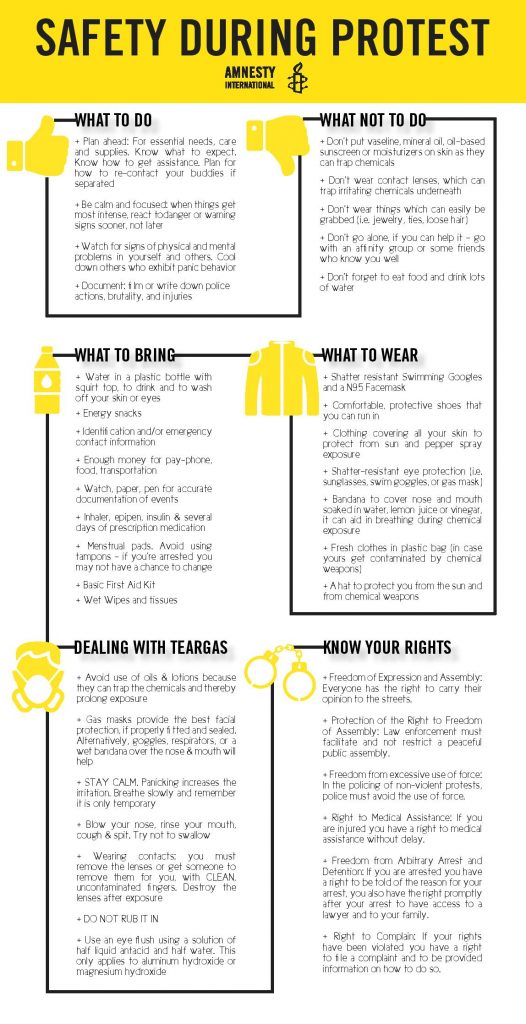 Resistance Tactics
Police have been known to use tear gas to disrupt actions and arrest protesters. Plan to wear PPE (personal protective equipment) like goggles and masks to prevent tear gas from getting in your eyes, nose or mouth. Prepare yourself by reading this guide on protecting yourself from tear gas.
Many activists are looking to Hong Kong to watch how protestors evade police and keep the demonstrations alive in the face of crackdowns and reprisals.
If you plan to film the police, read this guide on How to Safely and Ethically Film Police Misconduct. Download the ACLU Mobile Justice app to record encounters, upload incidents to the ACLU and learn your rights.
Watch this instructional video from Vice on how to film the police while complying with the law.
If you're stopped, arrested or detained by police, it's crucial to know your rights. Read this guide on law enforcement encounters to stay informed.
Trick facial recognition technology by wearing makeup. By mixing up your tones and creating asymmetrical styles, you can outwit algorithms that would normally auto-detect your personal identity.
Use Encrypted Technology
If you're directly organizing protest actions, make sure to keep your essential communications in encrypted messaging. Many actions shared on Facebook, the Messenger app and other similar text services can be used to incriminate protestors.
Consider using the encrypted text app Signal to protect you and your fellow activists from reprisals. Signal has also rolled out features to prevent facial recognition and protect anonymity.
Protecting your browser activity can also help you evade authorities. Tor is a popular secure browser used by activists for this reason.
Avoid using cloud software like Google Docs to store personal information.
Use Media Responsibly
If you take pictures or record videos during protests or other actions, make sure not to post them to social media without the consent of those depicted. Even when you cover your face with masks or helmets, you can still be identified by your clothes or other indicators.
People have used pictures to identify white supremacists and perpetrators of police violence, but this technology can out activists as well!
Struggle and Solidarity Beyond the Streets
The spectrum of activism is broad. You don't have to protest on the streets to affect change – there are a myriad of ways. Expand your solidarity toolbox by reading 26 Ways to Be in the Struggle Beyond the Streets.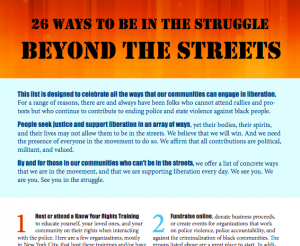 Protestors on the front-lines could always benefit from donated supplies. Basic items could include water bottles, protective gear (like goggles and helmets), dry snacks and medical supplies. Check in with local activist and street medic groups to see what they need. Consider donating yourself, or even organizing a donation drive.
Helping to finance or resource racial justice groups is a simple way to take immediate action. Check this list of organizations that need financial support and additional Resources in Defense of Black Lives.
Show Solidarity from Afar
Though many of the high-profiled demonstrations are focusing on the U.S., racial justice protests are happening across the world.
Learn How to Help from Europe with this educational guide.
Consider using art to express solidarity. Graffiti artists in Belgium spraypainted "Please, I can't breathe" onto a train car to spread awareness to George Floyd's final words.
Keep the Movement Alive
Think long-term: How can you make sure the movement for black lives doesn't end with the protests?
For black people who are directly impacted by racism, taking the time for self-care and mental wellness can be important acts of resistance.
For white allies, reflect on what you're doing in between mass uprisings. For other communities of color, consider the ways you can build revolutionary resilience.
Quick Sheet: Pro tips from experienced protestors
Before a protest: Preparing yourself
Wear black head-to-toe. The more uniform everyone looks, the harder it is for the state to identify who did what.
Wear another color under your black in case you need to strip it off to blend into the general population.
Write the dedicated legal hotline number on your body in multiple places with a sharpie.
During a protest:
Pad your dominant forearm to absorb baton blows (if police get violent, this may save you a broken arm).
If someone goes down, shield them with your body to protect them from attacks or trampling.
Keep the cameras off injured people to protect their identity. Spray paint can obscure camera lenses if needed.
Stay mobile and avoid being cornered or flanked by police
Be wary of loud noises from cops or concussion grenades. Noise is meant to rattle and disorient you.
Never turn your back to an attacker.
Do not run or separate yourself from the crowd. This will expose you to police who constantly scan outside the crowd.
If vulnerable comrades are arrested, then more privileged protestors should go to jail with them to express solidarity and help protect their safety.
For white protestors, this means supporting POC. For cis protestors, this means supporting trans- and non-binary protestors, etc.
After a protest:
After the action, check in with medics. Show them care and emotional support, as they have for protestors.
If you're arrested, legal teams should be working to get you out.
If you haven't been arrested, see if there are jail sitting initiatives happening, and how you can support.
---
Do you have a resource to share or add to this list? Let us know!
We want to hear from you.
Email us at [email protected], browse our organizations and initiatives in our online library leave us a comment on Facebook, tweet us @rightsconnected and interact with us on Instagram @rightsconnected.
This blog post was written and edited by Research Associate, Matt Parsons, and Education and Communications Associate, Sabrina Sanchez.
Feedback helps us improve:
  (rating:

0

-

0

votes)