Organization contact links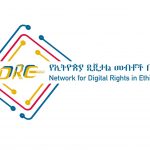 Network for Digital Rights in Ethiopia (NDRE) s a civil society-led network composed of human rights, media, and digital rights advocacy civic groups and individuals. It aim to increase awareness about digital rights, establish communities that work together to promote digital rights, and influence policy, regulations, and legislations that affect digital rights.
NDRE works to identify digital right gaps in Ethiopia and seeks proactive solutions that advance freedom of expression, association, and economic rights of citizens, utilizing the digital space.
Feedback helps us improve: