Organization contact links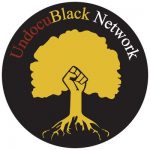 The UndocuBlack Network (UBN) is a multigenerational network of currently and formerly undocumented Black people that fosters community, facilitates access to resources, and contributes to transforming the realities of our people, so we are thriving and living our fullest lives. This is done by 3 main implementations:
Developing the leadership of our members through tools, training and programming.
Building power with and for our communities through advocacy, local organizing, and cultivating strategic alliances to advance policies that affect our daily lives.
Centering the humanity, dignity, and wellbeing of our communities in all aspects of our work.